In Conversation with: Sacha Michaud - Co-founder @Glovo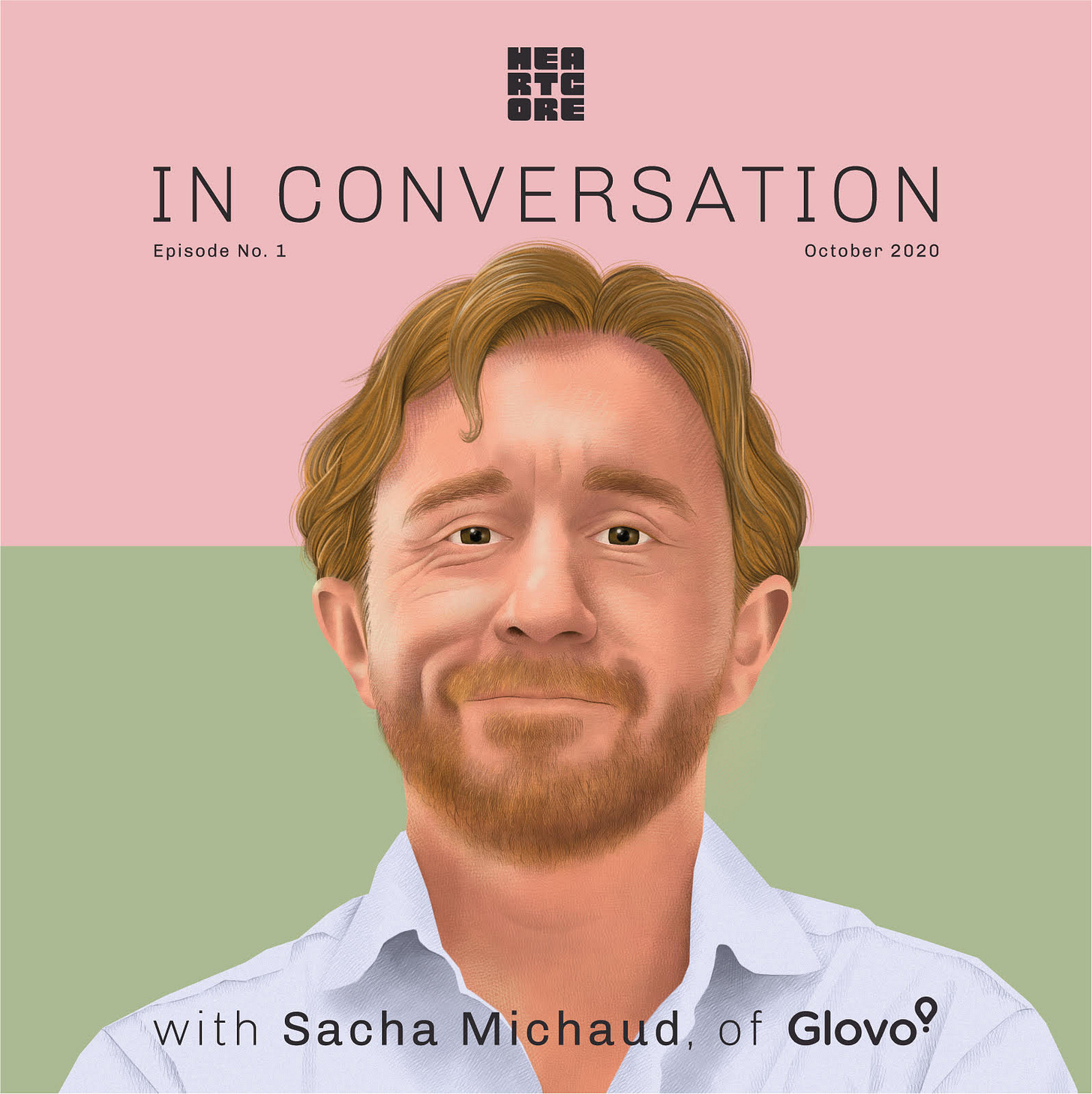 In Conversation is a series of long-form interviews with the founders of Europe's most successful consumer technology companies.
We dive into the stories behind some of the continent's biggest (yet often untold) success stories, as well as those of people behind them.
As early-stage investors, we know how strenuous the entrepreneurial path can be - especially in the early days. We also know how transformative these journeys can be, and that it takes a lot of grit and resilience to get through the inception phase. We hope that reading those debut stories will be both entertaining and valuable.
For this first edition, our Partner Yacine Ghalim has had the privilege of chatting with Sacha Michaud, co-founder of Glovo.
For those of you who still don't know about Glovo, Glovo is an on-demand delivery platform that operates in 19 countries and close to 700 cities spanning across Europe, South America, and Africa. The company delivers food but also other urban conveniences from groceries to pharmaceuticals to… basically anything you want, and have set themselves the broader ambitious mission of "making city life easier and smarter".
Glovo was valued at over $1BN in December 2019, less than 5 years after being founded in Barcelona in 2015. It is the second privately held business in the country to be valued at over $1BN after ride-hailing giant Cabify. Glovo was also the first European on-demand delivery platform to take a more "horizontal" view and expand outside of restaurants, with peers Deliveroo and Uber now seemingly following in their footsteps and expanding into categories such as groceries.
Sacha's life's journey is genuinely fascinating, and we hope you'll have as much pleasure reading about it as we've had putting it together.
PS: If these interviews are not valuable to you and not what you originally subscribed for, let us know by responding to this email, and we'll keep you out of these particular editions.
________________________________________________________________________
Q: Let's start with the very beginning! Where did you grow up? What was your childhood like?
A: My mother is English, and my dad is Canadian. I was born in London and spent the first few years of my life there, but then moved around quite a lot. We lived for a couple of years in Canada, Mexico, and Guatemala. As a teenager in the UK, I did spend a little bit of time on "entrepreneurial" endeavors. I was delivering newspapers during the week after school and worked a couple of mornings helping the milkman. Delivering milk was a bit tougher because you have to wake up super early and the weather is pretty cold, the milk bottle was quite big and my hands were small in those days but that gig paid very well, so I just combined the two things pretty much my whole childhood to get a bit of extra money. And yes, it actually circles back. The paper bags were not Glovo yellow but they were kind of orange. (laughter)
At the age of 16, I decided to pursue my passion and became a professional jockey. At school, I was always doing a lot of sports. I loved playing football & rugby but I wasn't very big so I was often told "you should be a jockey". A friend of my grandfather was training horses at that time, so when I was 14 I went to see him and started learning how to ride horses. I was all in for five years - and those were great years - but it's an industry where it's all or nothing. If you're one of the top guys, it's an extremely successful career but if you're not there, it's pretty tough and the divide between the successful and the unsuccessful is very wide. I just didn't want to turn 30 and have no other alternatives. At some point, I traveled to Barcelona to see my mum who lived there. I was planning to stay for two to three weeks, just to breathe a little. I realized there that in professional sports you have to be 100% committed, not 90%. Having doubts about my career meant I was not totally committed to the discipline. I decided to take a year off which became a lifetime off. I started learning to program and ended up getting a job as a computer programmer.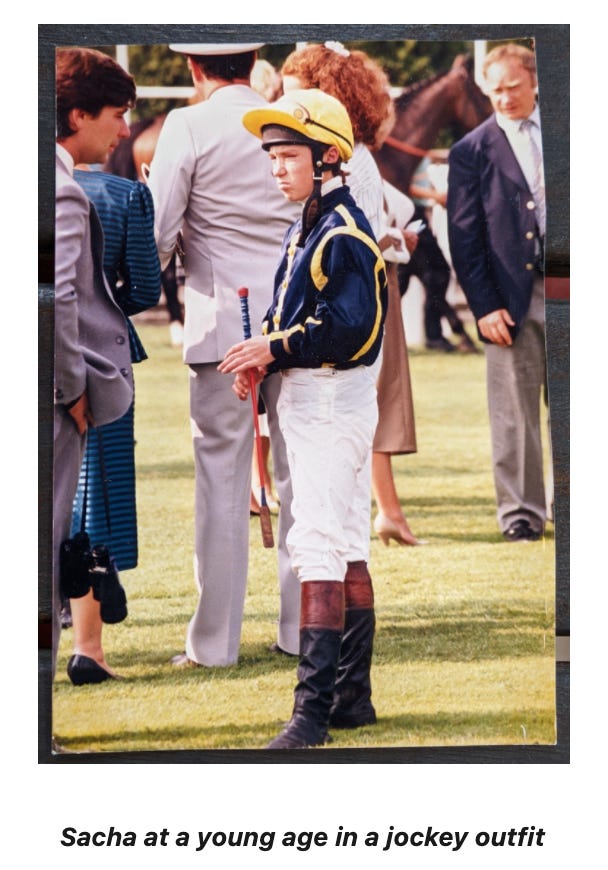 Q: In '97 you founded your first company "LatinRed",  a Yahoo-like website for a Spanish-speaking audience. You then sold the company three years later right before the internet bubble. How do you look back at this first entrepreneurial journey? 
A: Things went very quickly, we grew the company in three years to be the leading Spanish-speaking portal in the world. We had about 10M active users which now doesn't seem very much but was massive at the time! To be fair we were a small company, we didn't receive that much financing, we built a lot of traffic but we were a 5-6 people team. We were very focused on user experience, launching new services, and growth, but very little on revenues. We did not even have a business model. We were planning to fundraise in the US and started working with a fundraiser there and that's when the proposal from StarMedia came in. StarMedia was big, having raised $90M already. We really thought that with the amount of cash they had, we'd never be able to compete, and joining forces with them was actually the smarter move. We'd bring a lot of traffic, a lot of technology expertise, and so we sold in May 1999. I started leading part of the product development/engineering initially from Spain, and then in New York as well.
Q: Wanadoo (France Telecom) came in and purchased some assets from StarMedia in 2002. After a stint of a few years at Wanadoo, in 2005, you moved on and decided to join Betfair. Obviously today Betfair is a $20bn juggernaut but in 2005, when you joined, it was a five-year-old startup out of London. What made you join them and stay there for nine years?
A: Yes! I joined Betfair in 2005. I remember telling my wife that I was joining a really exciting project. They were disrupting a traditional industry with what appeared to be a superior model in terms of incentives alignment, and I was fascinated by that. I was lucky enough to meet one of the founders and he was a super nice guy, visionary. At Wanadoo, I was bogged down in the corporate world of France Telecom. It was a culture shock for me to work there and I wasn't enjoying it. The decisions were taking too long. I also think it was a good match on Betfair's end in the sense that I had a pretty unique profile. I'm digital, but I also understood the betting industry very well from my jockey days. Hence I thought I'd give it a go, and it turned out to be an amazing journey. I learned a lot: I had been very much product and tech-focused all my career, now all of a sudden I had to build a marketing team, a sales team. In fact, I had nothing to do in tech since it was all being done in London by the engineering team. I also met some great people there. The person who hired me at Betfair, later on, went off to build Uber's international business for a few years, and you know, when we set up Glovo, he was obviously one of the first people I called. He is now our Chairman.
Q: So we're in 2014, you've left Betfair, which by then was not quite the startup you had joined nine years before. You're still in Barcelona. And that's pretty much when you meet Oscar. A few months later, Glovo was born. How did the two of you meet and how did the idea come to life?
A: When I left Betfair, I was convinced I wanted to do something completely different. It would have been very easy for me to stay in the gambling industry because it's a small world, but I really wanted to do something different. I had been investigating what everyone then called the "Sharing Economy" for a year and I was seeing a lot of interesting projects in the space, notably, Uber which was already getting popular in the US, I started playing around with a concept, built a business plan, and got a couple of investors on board. I called Niall (Wass), who's our chairman now, and who was at Uber, to get his thoughts on the idea. "With my Uber hat on: don't bother we'll crush you — but with my friend hat on, go for it, there's definitely space in the market for this kind of multi-category delivery service". A few months later, in December of that year, some investor friends told me "Hey, there is this kid who just came back from the US. He's got a similar idea and is doing a seed round." I met him and he was amazing. He was only 22, very articulate, insanely smart, and he was ahead of me: he was already closing a round and had already done a lot of tests. I thought we could complement each other very well, so we joined forces in 2015. It was pretty straightforward, very quick. I think we met and two weeks later we were doing it.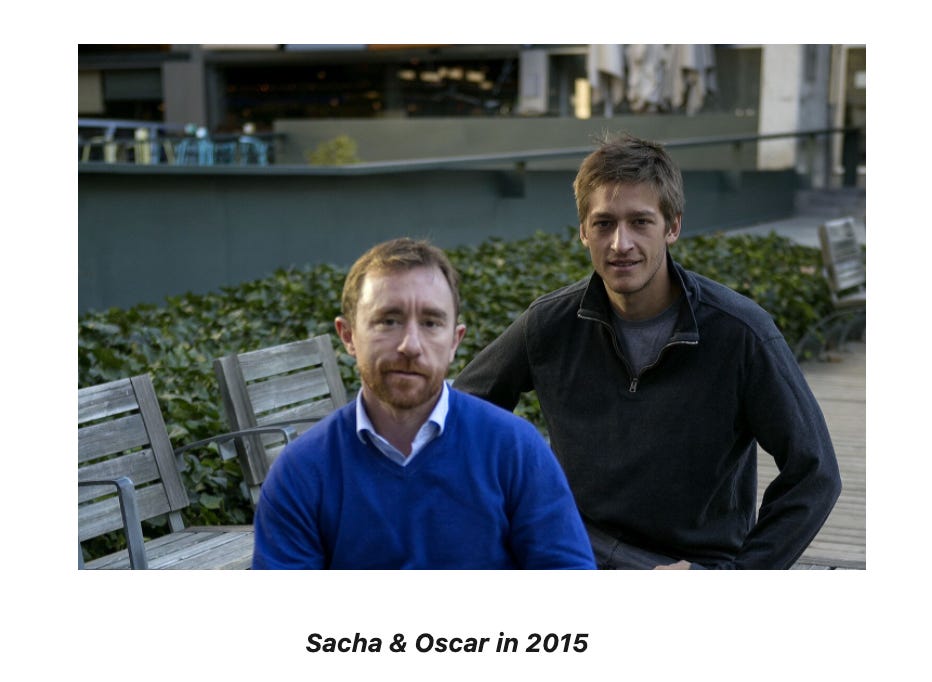 Q: Postmates was quite an up and coming company in the U.S. Were you inspired by them? Did it comfort you that this model seemed to be at least partially validated (validated is a big word because they too were still early)?
A: Yeah, I think it's fair to say Postmates was probably our biggest reference: similar idea, multi-category from day one. The US was ahead of the game, as often. What inspired us was that they were already building a very strong brand with a lot of "coolness" around it. I actually remember stealing one of their slogans that they had stopped using: "Your city in your pocket", which I still love to this day.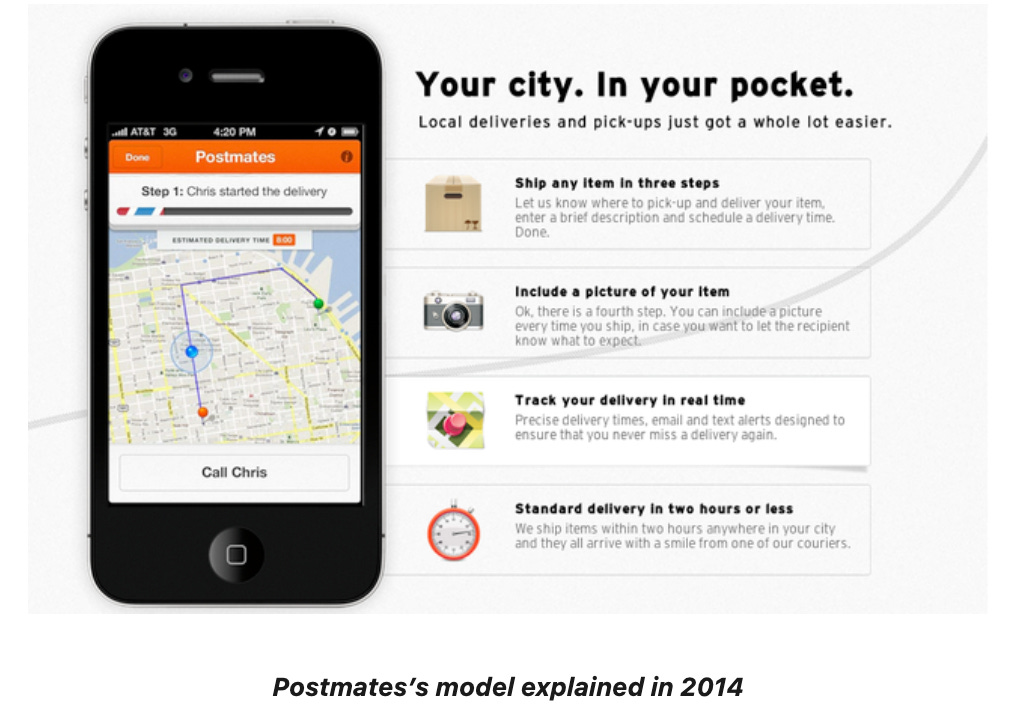 Q: Even in Spain where you launched, you had a bunch of local competitors. You also had some bigger competitors in France, the UK, etc. What made you think that you could win?
I had a high level of conviction because we had a fantastic team that was executing very quickly from Day 1. We did have a couple of local players who didn't represent that much of a threat, to be honest. As for the international competition: we were very local and we could execute much faster than the foreign guys coming in. Additionally, I had seen in the past how LatinRed with hardly any money had twice as much traffic as StarMedia which had been funded with $90M. If you just double down on what you're good at, you truly have a shot at winning. Therefore I wasn't particularly worried. You had Take Eat Easy (Belgium/France): a very good company with very good service and a great brand. They, unfortunately, made the mistake to go to the UK too soon and spend all their money there. That was a big mistake because they were doing things really well before that. Then you had Deliveroo, which came over from the U.K and was food-focused, but we managed to out-execute them in our home market and that allowed us to maintain market share and leadership in Spain very early on, which I think was key.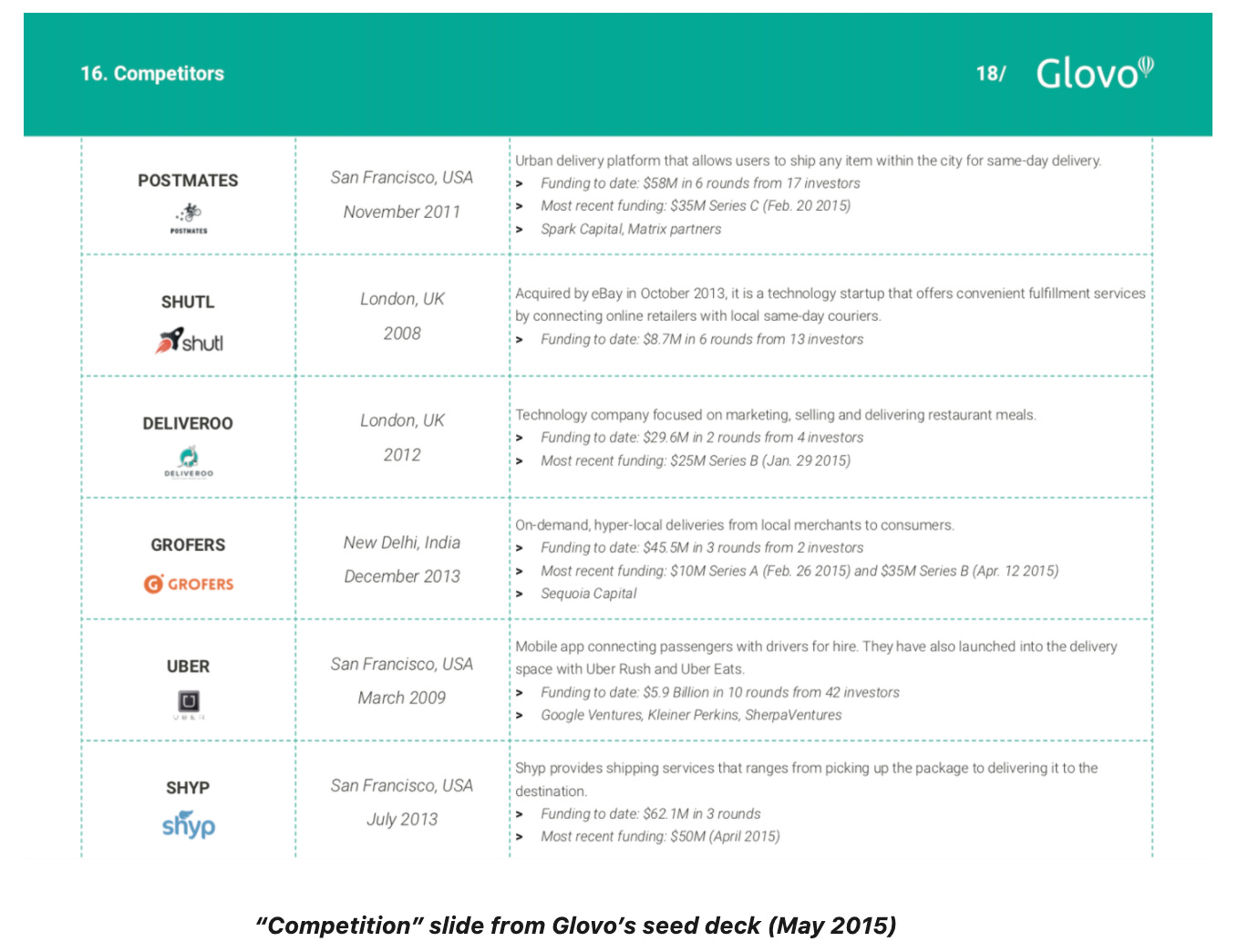 Q: Can you tell us a bit about the very first product? How did it look back then? Because obviously now we know Glovo like this three-sided marketplace with the consumers, the couriers, and the partners, whether they are restaurants or shops. But that's not really how you started, right?
A: Indeed. When we launched we outsourced the first app version to a Russian tech consultancy. When we hired our own tech team, we realized that we had to rebuild everything because the architecture was very poor. Yet, I believe it was a great move anyway because with that product we were able to launch very fast, within two and a half months. The first version was just two text buttons. Basically, if you wanted us to go buy something for you, we'd go there, buy it, pick it up and bring it to you. Super simple, but not very scalable. Yet, it was very important that we got to market quickly: that type of service, in spite of prices, created a lot of buzz. All of a sudden you had your city in your pocket literally. You could write anything you wanted and we'd go and get it. That was a hugely powerful message and users loved it. They wouldn't make many orders, but when they did, it was like "Wow!". My friends used to call me up saying "Hey, I tried your app and it works!!!", and I was like "Yeah of course it works!". (laughter). And then journalists, obviously, there's a story there. We didn't have money to spend on marketing either at the time, but we grew organically, through word of mouth & press. We were getting amazing traction without having invested in marketing so people saw we really were onto something.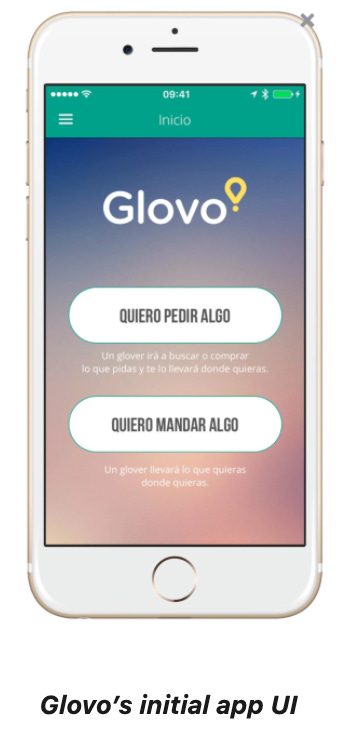 We launched Glovo 2.0 in mid-2016, which included what is the base of what it is today: the marketplace with restaurants, stores in the app. We had at this point a commercial agreement with them, building the foundations of our business model. We would be charging a commission and would compensate the commission with a small delivery fee.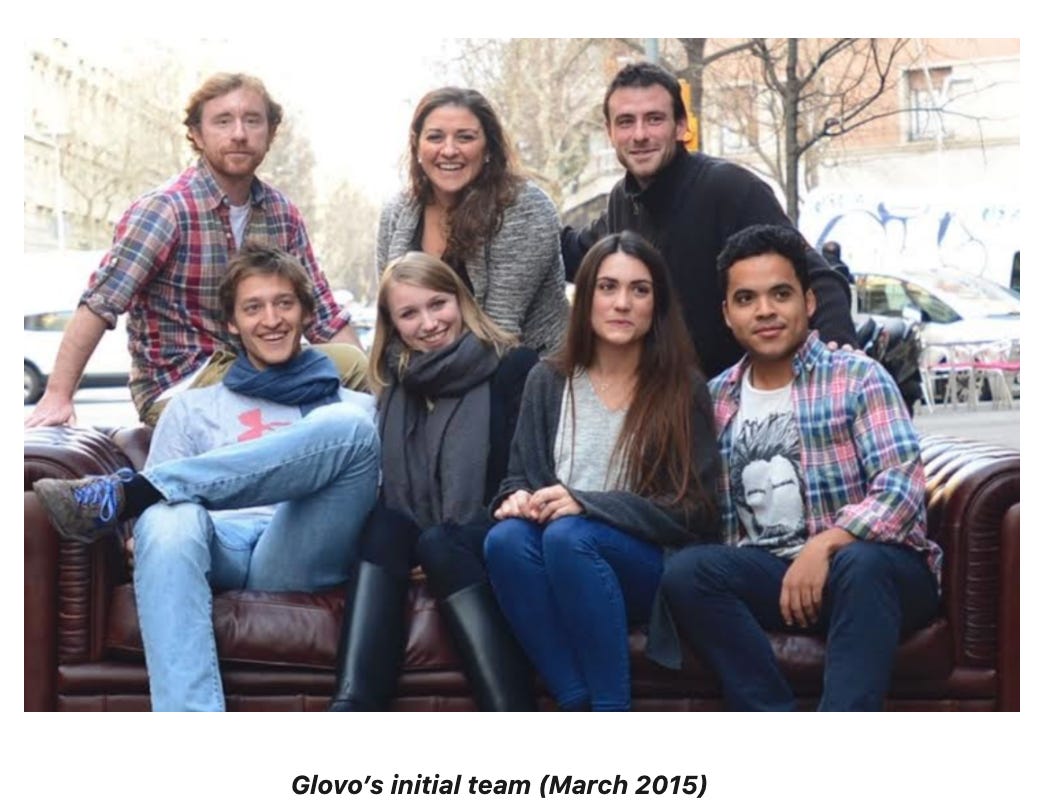 Q: After that first phase - these first couple of years with phenomenal growth - comes another era: 2016-2017. The growth was still spectacular, but this is also when you started to face the first bumps on the road. Some of your investors told me to specifically ask you about the Series B, which apparently was a more difficult round to raise. Do you reckon that's correct? And why so? 
A: To be fair, apart from the Seed round, I think every round all the way to our last one has been super difficult to raise! There's always been a lot of doubt as to whether a small startup from Barcelona could scale to compete against giants (Uber, Foodora, Deliveroo). We're also competing against the old school food delivery guys like Just Eat. At the end of the day, the amount of funds in Spain is quite limited. We were lucky to get Seaya very early on, but then, you know, you have to start putting together these bigger rounds, and that's when you need bigger/international investors.
You are right though, the Series B was one of the most difficult ones, we got 99 no's, and two yeses.
Q: The past couple of years have been yet another Up and to the Right phase with very fast geographic expansion - Eastern Europe, Africa, South America - and a lot of funding raised to sustain that ambition. One of Glovo's main axes of differentiation from the very beginning was the horizontal positioning. You always saw yourself as a last-mile multi-category delivery company and not as a food delivery company. Now it feels like your peers are all moving in your direction, so it looks like you were right very early on. What was the rationale of starting 100% horizontal?
A: Food has been delivered home for decades now, in fact, before the Internet. We realized of course that most of our customers were using us for food very quickly. It's a famous phrase: people eat three times a day and they have a headache once a month, but the key is the platform. If we're capable of having thousands and thousands of our yellow boxes in the streets at any given time, then that's hugely powerful. If we have thousands of riders, then we have the most powerful logistics network within a city. I really think that the segment with the biggest potential in the next decade is actually non-food related. So was it the right decision? I really believe so but you never know, because if we did double down on food, we might have invested less on segments which don't really bring in the same amount of orders, but it's also a question of brand perception. I mean when we bring customers an aspirin at 2:00 AM, those are the "Wow!" moments that they want to talk about.
Fundraising-wise, I actually believe that being horizontal opened a lot of doors for us. We're not just another food delivery company. If I do exactly the same as Deliveroo, and Uber with 10% of their funding and they're targeting my main countries, you're not going to take me seriously. Our best shot would have been to be acquired just for our market share, something we weren't interested in and so being different was definitely important.
Q: Another point I wanted to bring up was international expansion. In the early years, Glovo was in Spain and then you opened up Italy and France. Later on, you expanded very aggressively to different continents (Africa, LatAm). We always hear that on delivery local market share is key. There is this rule of thumb of 60% to get to critical mass and to make the unit economics work. What was the rationale of going so wide, and how much of a challenge was that? In hindsight, would you do it any differently?
A: When we started expanding, it was because the playbook was beginning to work very well, our technology was getting better and we felt time to market was really critical. There's this big opportunity to become a leader in a given city or country as you mention. We had an opportunity to go to LatAm where investors were willing to help us. We are ambitious and want to build a global company. We also saw opportunities in Eastern Europe, the Balkans, and some African countries. 
Some choices have been more successful than others of course. We had to leave the Brazilian, Egyptian, and Turkish markets at some point, but I think the payoff for failing in those and then winning in the markets we have has definitely been the right choice. What I mean is I'd rather fail in a few countries and gain in others because the gain in the others is worth more than the failures. And we've learned a lot from the failures. Brazil is a really good case, we failed fast and made a very quick decision to leave that market and so overall, I don't think I'd do anything differently. All these experiments were very valuable to us as a company, so we could learn from our failings. Let's see if these bets pay off in the future.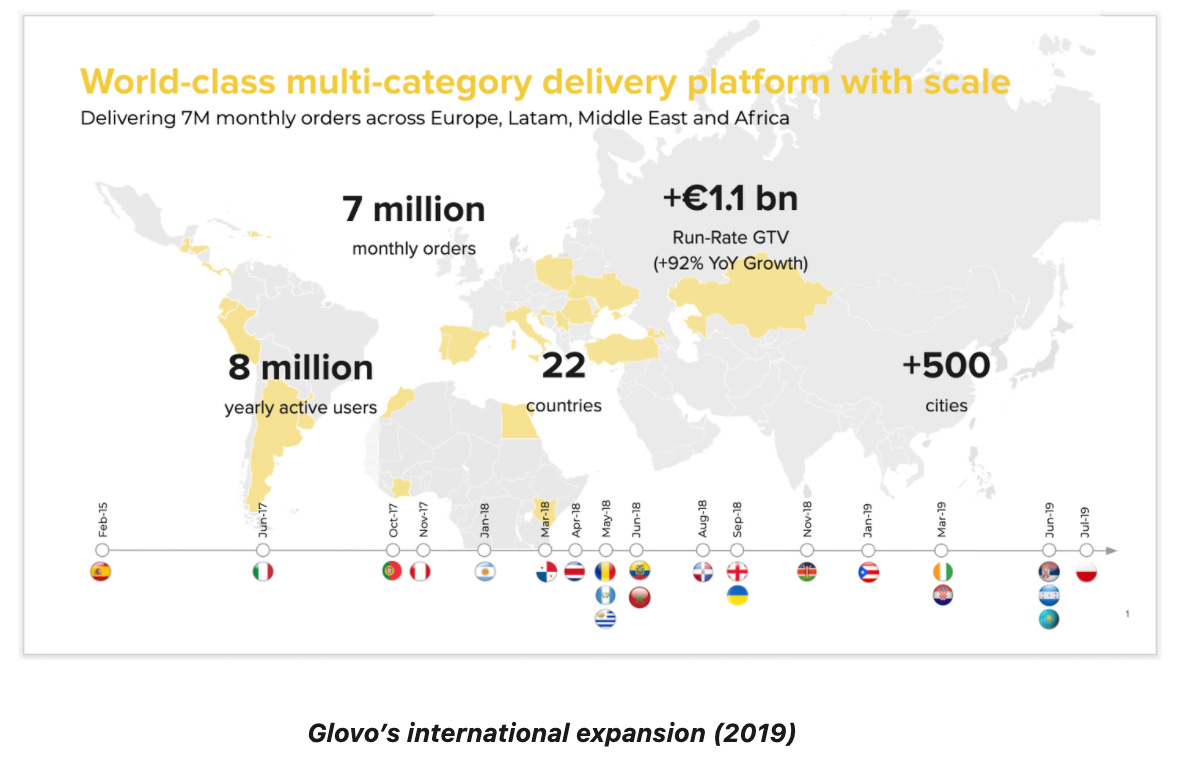 Q: At a macro level, there's this big debate on the profitability of this whole industry, most specifically on food. We're seeing UberEats losing a lot of money, every quarter. We're obviously seeing consolidation happening: first GrubHub plus Uber, which then became GrubHub plus JustEat, followed by Uber and Postmates. And there's a lot of questions around whether this industry has been "subsidized" by investors in a time where capital was really abundant and consumers haven't really been paying the "true cost" of delivery. Obviously, you've built the company in a very different way. As you said, you've raised maybe 10% of what these companies have raised and I guess your take on the whole profitability thing has been different. But I'd love to get your take on that question at the macro level.
A: Yes, we haven't had that option because we've had less access to funds. Not being born in Silicon Valley or London or even Paris, we've had to do more with less which actually puts us in a good position. It's made us leaner and a more efficient company and we've always been super focused on being operationally positive because we had no other choice. We would have liked massive funding, but we didn't get access to it, but that's been great for us from a business perspective. Yes, I think some of these companies are too aggressive, too promotion oriented. They think they can just throw money at the market and win it and that gives a false perception. Yet I think not everyone's the same. There's a lot of lean companies like us too thus I don't think it's an industry thing. I think it's more large companies that have been inundated with easy money that have gone for world domination at all costs, and that's changing with consolidation, where public companies have to give positive returns to their shareholders.
Q: Lastly, I would love to know: is there anything that still keeps you up at night, Sacha?
A: Yes, every day! Glovo's growing constantly, and we, therefore, run into bumps in the road all the time. I mean, let's just take COVID. We didn't know this was going to happen,  and you know, one day you learn that your country will shut down, like that. We're very fortunate that China, which we don't operate in, decided to allow delivery. Italy, which is one of our largest markets and was the first hit by COVID massively in Europe, decided to do the same & permit delivery. Our business could have been shut down just like any other retail business, and we would probably be having a very different conversation.
One interesting thing to note is that during COVID, Glovo's social impact has really become visible as an essential service. During the crisis: we've decided to put our platform, technology, and logistics, which are our most valuable assets as a company, available for society, allowing local councils or NGOs to plug into it. You know, maybe in two or three years, 5% of all our orders will be social. We have a massive impact we can make in cities, and I really want to start using this massive thing we've created for good, which I think is the right time.
Hopefully, that plan will work out. Stay tuned!